ZMMSC
Zensis Multimedia Messaging Service Center
ZMMSC is a highly available MMS messaging solution that provides MMS handling services for handsets, inter-operator handling, and applications.
Nowadays, MMS has become a popular and effective method for sending targeted marketing messages with high open rates. ZMMSC's proprietary promotional MMS feature allows for bulk MMS sending while minimizing the demand on system storage and computation.
ZMMSC is highly customizable and it can be tailored to incorporate customers' unique requirements or seamlessly integrate with their existing systems. ZMMSC is designed with a emphasis on high availability, ensuring that the MMSC remains operational even in the event of hardware failures or during system maintenance. Additionally, it guarantees to deliver messages by adopting the store-and-forward mechanism.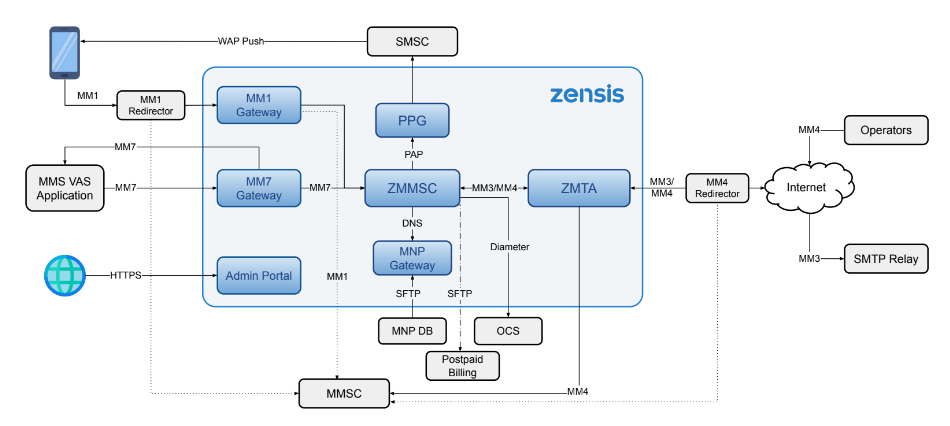 Support MM1/MM4/MM3/MM7

MNP, PPG, Enum gateway

Proprietary promotional MMS

Adapt content for images, audios and videos

Delivery report
Highly customizable to fit customer's needs

Horizontally scalable to support high traffic capacity

Store and forward processing

Highly availability, transparent to single point of failure

Management web console, t

raffic report and system monitoring

CDR generation for Operator accounting and billing purpose

Support SNMP, OVO agent for network management

Integrate with external systems such as billing gateway, user profile